"We never dreamed of such jackets"
In the logistics center at the Bruzgi checkpoint, where migrants from the camp on the Belarusian-Polish border have moved, they will install a shop-shop and a mobile exchanger … The news came as a surprise to Belarusians. Like, if migrants have money, then why have people been collecting food and warm clothes for them for the second week. It also turned out that the migrant's "daily ration" includes much more food than the Belarusians themselves can afford.
Now some illegal immigrants say that they are going to stay in Belarus. We figured out how the locals perceived this perspective.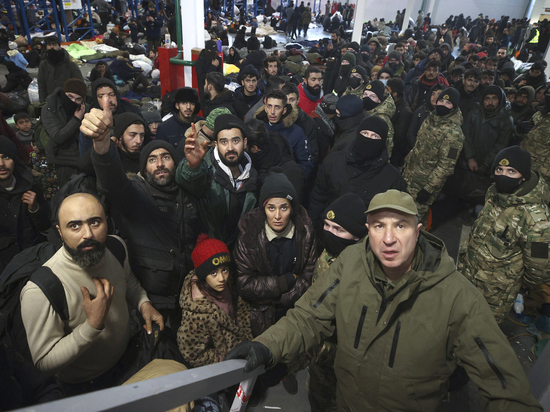 Photo: AP
"Of course, not everyone likes their presence in cities. We are not used to this. And many, including myself, fear for their children. On the street without work hefty men scurry about who do not know what to do with themselves. You never know what they get into their heads.
Poland is doing the right thing to defend its borders. But even here they should not stay, especially without work. My opinion is that they should go back. I don't want to feed them for my taxes, "a resident of Grodno Lyudmila shared with MK. Our other interlocutors were against the presence of migrants in Belarus, even if they were provided with jobs. The logic here is simple – the Belarusians themselves will lose employment.
The news that the migrants' camp will have their own store and even an exchange office caused a storm of indignation among some social media users. "If they have the means, then why the hell are they being fed for free, for our money? And if they entered the country as tourists, then they must have medical insurance, in this regard, I would like to know: are medical examinations of tourists and their treatment paid for by insurance companies, or also at the expense of Belarusian taxpayers? " – Asks a resident of Grodno Alla.
But most of all the residents were shocked by the food of the migrants. The daily package includes three packs of instant noodles, two packets of milk, two cans of stew, two cans of canned fish, a stick of sausage, a pack of cookies and waffles each, and a pomegranate. The package weighs 4 kilograms, it is handed over by the employees of the Belarusian Red Cross. Plus, migrants are fed porridge and fruits.
"People began to be indignant that milk would be better for our children in a boarding school. It's all at our expense. There are blankets and food. The attitude towards migrants is such that they "fell on our heads." On television, of course, they portray that the parcels are being collected and that we, Belarusians, are kind. Well, maybe, it's true, they collect money from teachers and doctors. Personally, I would like them to go back. We do not have enough joy from migrants, we ourselves do not have enough, "a resident of Minsk Ekaterina shared with MK.
According to her, she thought about helping migrants, in particular, women and children: "We have both sweaters and jackets, but where to carry it is not known. Plus, I looked at what jackets they wear. Frankly speaking, not poor people. There are jackets that we never dreamed of. Therefore, what to give? But, if they organized some kind of collection point for clothes in the region, then I would, of course, take it. "
None of the local residents we interviewed believe that migrants will want to stay in Belarus. The reason for this is the low payments for granting refugee status. The first payment is about $ 20, and the second – $ 60.
"They showed on television only one person who said he wanted to stay, and that's all," Andrey from Minsk said in a conversation with us. – Everyone understands that this is not what they were going for. Now there are a lot of migrants. They wander around the city here and there. What is in their heads is not clear. They don't speak any language, we can't talk to them. Well, they walk like that – and let them walk, as long as they don't bother anyone. "