The Russian Federation has hypersonic weapons with a range of 5 thousand kilometers
The British tabloid The Sun was noted for another scandalous publication. The publication wrote about the possible deployment of American missiles in Germany, capable of reaching Moscow in 21 minutes. Experts commented on this hypothetical scenario.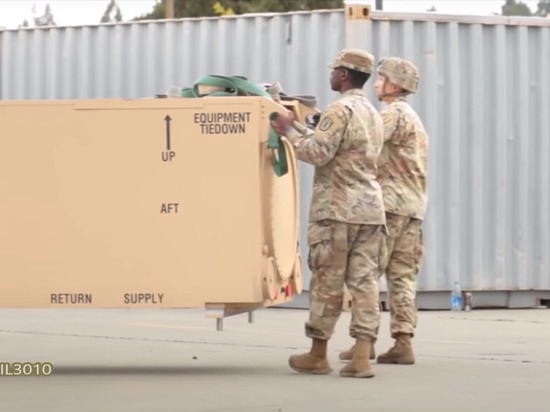 Photo: Still from video
The publication tells about US plans to deploy Dark Eagle hypersonic missiles in Germany. They even indicate the military unit where they want to put the missiles – the 56th artillery command. The speed of the rockets is 4,000 miles per hour. It will take 21 minutes and 30 seconds from Germany to Moscow, the newspaper calculated.
Whether these plans of the United States will be implemented is a big question. First, Dark Eagle's trials are pending. And secondly, it is not a fact that Germany will be happy to host American launchers in order to immediately become a target for Russian missiles.
President Putin has warned more than once: as long as the American medium-range missiles will not appear in Europe, Russia will not deploy such missiles. On the other hand, he promised a retaliatory strike not only at the bases of these missiles, but also at the decision-making centers for their launch.
About what American missiles are meant, wrote in his Telegram channel "Maduro is not a fool" military expert, editor of the magazine "Arsenal of the Fatherland" Alexei Leonkov.
According to him, the Dark Eagle is a medium-range missile, which is created on the basis of the AHW (Advanced Hypersonic Weapon) hypersonic project. AHW showed a maximum range of 3700 km at a speed of Mach 8 (Mach 1 is the speed of sound at a certain altitude).
The Dark Eagle is designed for a speed of Mach 6 and a range of about 3000 km. It is a two-stage ballistic missile. The first stage is the upper stage, the second is the hypersonic gliding unit.
"When the Dark Eagle appears in Europe, Russia will respond symmetrically by deploying its hypersonic missiles with higher speed indicators, with a flight range of up to 5000 km." written by Leonkov.
For reference: from Moscow to the western tip of Europe – less than 4 thousand km in a straight line. So, the European NATO members have something to think about: do they need such happiness in the form of American missiles? It seems that Berlin and other European capitals will answer this question not at a loss.