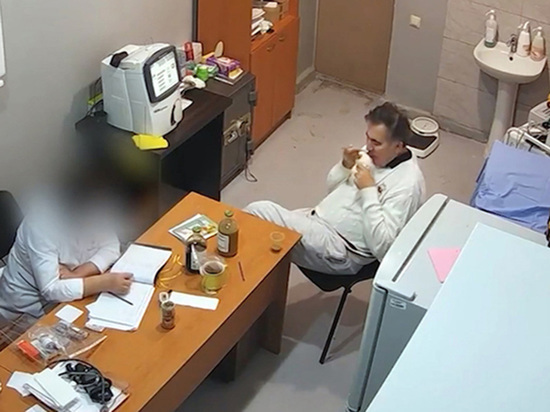 These footage were used by the Georgian jailers as" evidence of a hunger strike deception "
Former President of Georgia Mikhail Saakashvili agreed to end the hunger strike he announced at the beginning October after being arrested in his homeland, where he returned after several years of life in Ukraine. His attending physician Nikoloz Kipshidze informed the media about the resumption of food intake by the politician, and the data was also confirmed by lawyer Nika Gvarmia.
Saakashvili agreed to start a gradual withdrawal from the hunger strike after being transferred from the prison hospital to the military hospital in Gori. The ex-president's doctor claims that the threat to his life and health remains for his patient. Earlier it was reported that Saakashvili's condition deteriorated sharply on November 18, after a meeting with a lawyer, he lost consciousness. This became the basis for his transfer to a medical institution.
During Saakashvili's hunger strike, the Georgian penitentiary authorities stated that he was secretly eating. In particular, the specialized agency has distributed recordings from CCTV cameras in the medical office of the prison in Gori. According to the records, Saakashvili ate and drank something in the presence of doctors. His supporters later denied the breakdown of the hunger strike. According to them, from the very beginning Saakashvili made no secret of the fact that he continued to take vitamins and juices against the background of refusing food.