Chicherina, who was born in Sverdlovsk, could answer the TV presenter
This morning I learned that there are happy people in our country. Presidential spokesman Dmitry Peskov said that the Kremlin did not follow the skirmish between the governor of the Sverdlovsk region, Yevgeny Kuyvashev, and TV presenter Vladimir Solovyov, "And, frankly, we would not like to have anything to do with this and somehow comment on it." We don't want to be involved in this either. But we can't. There is no Kremlin wall between the population of the Russian Federation and Solovyov. And we have nowhere to hide.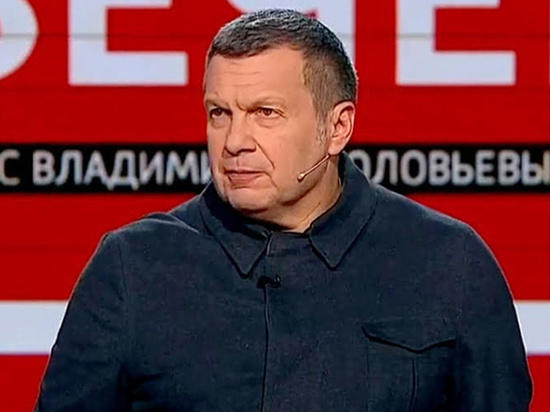 Photo: Frame from video
No matter how hard I try, I still know that, according to Solovyov, a "center of a vile liberota" has developed in Yekaterinburg, that Kuyvashev advised him to "watch your language", to which he received a simply epic answer: "Are you trying to present? What was it now – "watch your tongue"? Are you killing an arrow or something, governor?"
I would like to say not even about the meaning of the discussion. Although deriving the dependence of people's political views from their nationality or place of birth is actually Article 282 of the Criminal Code of the Russian Federation. And here the TV presenter Solovyov really needs to "watch the language", unless, of course, he wants to "watch the market."< /p>
And, of course, the first one that comes to mind is the singer Yulia Chicherina, who was born in Sverdlovsk, and now has taken the citizenship of the DPR and has performed for soldiers dozens of times not only in Donetsk and Lugansk, but also at the Russian Khmeimim air base in Syria. She could answer Solovyov. But she doesn't answer. Apparently there are more important things to do. But the TV presenter began to respond to the singers of radio "Chanson", champions in fights without rules. And we, who are not behind the Kremlin wall, are forced to listen and read this vulgar set of criminal bullshit.
Deputies, you banned profanity. The language in which the most poetic and philosophical work of Russian literature of the second half of the 20th century was written is the great poem "Moscow-Petushki" by Venedikt Erofeev. Forbid these vulgar "presentations", "arrows" and "according to concepts" too. Because in this language you can only take a trifle from the fifth graders. They also banned and recognized the AUE social movement as extremist, ban the propagandists of criminal vocabulary. Or at least explain to them that what makes a man manly is not bandit words, but regular visits to the gym and an honest admission of his own mistakes.