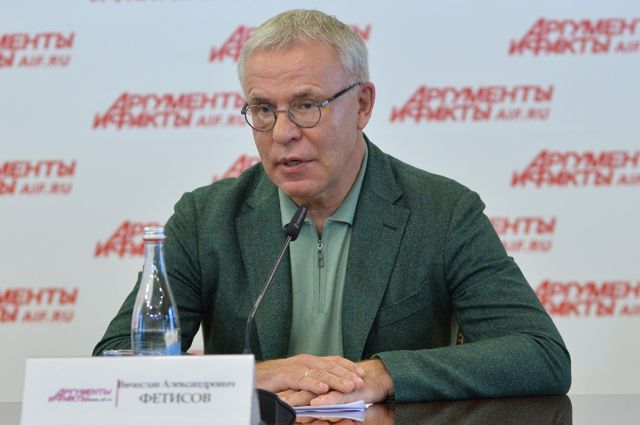 "AiF" continues a series of interviews with famous environmentalists and politicians on climate change, nature conservation and international cooperation in this area. Today the guest of the project "Ecology of Russia" — Chairman of the All-Russian Society for Conservation of Nature (VOOP), UN Goodwill Ambassador, First Deputy Chairman of the Committee on Ecology, Natural Resources and Environmental Protection of the State Duma of the Russian Federation Vyacheslav Fetisov, who answered the questions of the project leader Nikolay Tereshchenko.
International cooperation
Nikolay Tereshchenko: Vyacheslav Alexandrovich, VOOP in 2021 became one of the main negotiators and organizers of events from Russia on international cooperation in the field of climate, environmental protection and "green" financing. But now the international situation is tense to the limit. Is there a plan "B" on the implementation of your international plans?
Vyacheslav Fetisov: Yes, things are moving fast… Everything happened so fast, but, in my opinion, our agenda is now — perhaps the only constructive one that can be "in the international dialogue." When international conflicts occur, the environment does not improve. Last year, the President of the Russian Federation gave us instructions on international cooperation in the field of energy transition, conservation of biodiversity and environmental protection, and I, as the head of a public organization and as the first deputy of the relevant committee of the State Duma, are doing this. UN Secretary General António Guterrescorrectly proposes to create platforms for discussing energy transition and climate change issues on the basis of public organizations, and we intend to create such a platform in the very near future. We need to be clear about what people care about. And you need to act not in an extreme manner, but weighing all the pros. and "against". Therefore, I believe that in terms of the environmental and climate agenda, biodiversity conservation, nothing is changing. All conflicts end sooner or later, and life on Earth is on the verge of making decisions, where responsibility lies with everyone. I emphasize — for everyone, and especially for the Russian Federation. Our country has the largest territory and huge natural resources. We are responsible for them. And you need to understand that ecology knows no boundaries. Today, there is not a single part of the world that is not affected by climate change. Therefore, we need to work even harder and, as soon as the situation normalizes a little, be ready for an international dialogue in this regard.
— What about sanctions against State Duma deputies? This is an additional obstacle to dialogue, even of a purely technical nature…
— Well, listen, there are different forms of communication. I am the UN ambassador for five programs and I am used to moving around the world in free mode. Recently, we have been actively participating in all international events and conferences, so this is really a problem for me. But you have to pay for everything. Before voting on the independence of the DPR and LPR, I talked with many people in the Donbass, and it was initially clear that sooner or later everything would come to the point that people would try to defend their right to a language, to their home and to the future of their children and grandchildren . It is scary to live in this format for eight years, as people lived in the Donetsk and Luhansk regions. I always personally check the information before this or that vote, especially now I checked it. So it's a conscious decision.
In general, all sanctions against deputies, congressmen, senators who are elected by the people, and their duties include, first of all, protecting the interests of the people who elected them — it is not right. One of our main functions — it is the interaction of parliaments, personal contacts with colleagues. Therefore, such decisions violate all rights, the very logic of democracy. I repeat, sooner or later all conflicts end. And the sooner they end, the better for everyone. And without communication it is difficult to repay conflicts, it is simply impossible. But what… let's use remote contact forms.
Lakes of Russia
— Will the match with sports legends take place on March 8 at Lake Baikal?
— I hope that it will take place, if there are no force majeure. Baikal — our pearl, the pearl of the world, it is under the protection of UNESCO. In the short term, the problem of water will be universal. And we must once again say and show the world: "Baikal must be protected!" We must tirelessly draw attention to this. We'll talk again, hold a match and other events, and most importantly — let's make sure that the protection of Lake Baikal will be the primary task of the state and regional authorities in the first place, as well as society.
By the way, here is a book with statements and photographs of honorary members of the All-Russian Society for the Conservation of Nature. This is a kind of rarity. Here is Krupskaya Nadezhda Konstantinovna, here is Lunacharsky, for example. And this is what is written here: "Nature protection is the most important state task and the business of the whole people." This is an excerpt from the Law on Nature Protection of the Russian Federation of that time. Already at that time, almost 100 years ago, our fathers and grandfathers understood the importance of nature conservation. Baikal requires increased attention today. Many still want the industrial use of its water, surrounding areas. This cannot be allowed. Everything must be done so that public control here is permanent. After all, we still have not resolved the issue of accumulated damage from the activities of the PPM (Baikal Pulp and Paper Mill).
— And now what is the situation with this PPM sludge?
— The government is addressing this problem with accumulated damage. We adopted the necessary laws by the previous composition of the State Duma. But public oversight is essential. We have a strong regional organization VOOP in Irkutsk. And just on their opinion it is necessary to rely on many issues and decisions. We must take a very reasonable approach to all issues related to Baikal, including in terms of tourism, and fishing, and in all other areas. Now a UNESCO commission is working on Baikal to consider all issues related to the lake, including the elimination of accumulated damage. Rosatom and its structures are doing this. All decisions have been made, we are waiting for the start of the process itself. And it needs to be accelerated. Not so long ago in the Irkutsk region, you know, there were earthquakes. And God forbid, all this accumulated muck will end up in Baikal. You can no longer take risks.
— There are many unique lakes in Russia. And I would like to say a few words about our project on Lake Salt in the Tyumen region. Its uniqueness lies in the fact that water and clay are very similar in composition to the Dead Sea in the Middle East. But for a long time, the Salt Lake was without protection, wild tourism flourished, 300-400 cars entered the specially protected natural area, and this, as we know, is dirt, unsanitary conditions, garbage and everything else. So, the administration of the Berdyugsky district, where the lake is located, together with the regional Department of Subsoil Use and Ecology, AiF and local Rosneft companies solved this problem. The essence of the solution is very simple — local authorities engaged an entrepreneur who created a guarded parking lot at the entrance to the lake, provided for a small fee the arrangement of trash cans, tables for meals, sun loungers and other minimal infrastructure. AiF and Rosneft supplied container sites for garbage and dry closets. The administration provided waste disposal. And the lake "began to play" — turned into a place of civilized, normal tourism. It became clean. Nature is saved, tourists and locals are happy, and all this was done without any huge investments, due to a very simple — public-private partnership. All that's left now is to bring electricity to it. In my opinion, such solutions should be extended to other water bodies as well. What do you think? Is the All-Russian Society for Nature Conservation ready to deal with such projects?
— Well, firstly, in this regard, there should be educational and educational programs, starting with kindergartens and schools, and further — for all ages. I recently spoke with the President of Finland, who said that it took them 30 years to clean up the garbage in their country. We no longer have these thirty years. Powerful information and education campaigns related to reasonable consumption and cleanliness in Russia are needed right now.
And secondly, you are right, such projects as with the Salt Lake should serve as an example for all local authorities. Creating conditions for a business that will both earn and clean — This is a very important thing for developing a careful attitude towards nature. Moreover, no big money is required from the state. You just need to turn your head on. I can say that we recently saw a similar project in the Orenburg region. Also on the lake, only accommodation, qualified medical care and consultations have already been organized there.
So public organizations, including the VOOP, should explain to the authorities exactly how work can be organized so that it would be useful for everyone. Under our feet in all regions are pearls that are buried in garbage, we kick them, we don't notice them, instead of taking and cutting them, using fairly simple and inexpensive solutions. In general, a good idea, we will discuss it at the next Presidium of the Central Council as an example for the regional network. At this meeting, we will just adopt the strategy of the VOOP for the coming years, including the 100th anniversary of the society. Water — the most important resource for humanity. We know that already about 100 countries — attention — import water. There is also a big problem with soil degradation, with the state of forests. I often cite this example: try stealing a bar of gold from the Gokhran. It's impossible. And to cut down a century-old forest in hectares, to take it out by thieves — it is possible. Pollute reservoirs — maybe. But it's not gold, but these natural resources — our main wealth.
Regional network
— From the point of view of the development of the regional network, are any decisions being made now? Any centralized programs? Or while the regional offices operate mostly autonomously?
— This year, that I am in charge of the Society, we, of course, dealt mainly with organizational issues. They adopted a new Charter, it was already wrong to live according to the old document. A lot of time was devoted to international cooperation, as the ESG agenda became extremely relevant, and it was necessary to be present at international negotiation platforms and create them ourselves. As for the regional network, the work must be built in such a way as to be mutually beneficial to each other — The Central Council should be useful to the regions, and the regions should also develop in a single strategic way. We now have branches in more than 50 regions, we would like the network to be in all 85 constituent entities of the Russian Federation. In some regions, we see that branches are registered, but we still sometimes cannot even find the people who are members or manage organizations there.
In terms of development — yes, we will do joint programs, we will hold all-Russian actions. I'll tell you straight — not everywhere governors, mayors of cities treat our organization with respect, therefore it is necessary to rebuild relations with local authorities. With good deeds and transparent work, we must convince the authorities that the VOOP is acting to help them, and not vice versa. So regional development — our second main task, parallel to the development of international cooperation. We have very good regions where real professionals, real associates, ecologists work, and benefit society. We will rely on their experience, on their specific examples in our strategic development. Everything that is connected with the encouragement of those who work well, building motivation — another one of our tasks. And one more important task — it is an examination of different ideas and projects.
We are now reviving the scientific and expert council, whose task will be collegial decisions to support certain proposals and projects. It's one thing when you, even being a professional in some environmental area, make a decision, and another thing when an idea is submitted to the federal level. This is a different level of expertise, without prejudice, a transparent, understandable, open process. Now, after all, many forces are playing in ecology, including extremist ones, including those serving someone's business or political interests. There are many such examples. And our colleagues from the regions approve the idea of ​​an expert council. This is a help for regional offices.
— And surely you will launch an exchange of experience? When successful projects and solutions can be recommended to all regions, as well as warned about all sorts of scammers. I, as one of the leaders of the AiF regional network, can say that this is a very useful thing.
— Yes, this is a very powerful technology for organizations with a regional network. Broadcasting successful experience, decisions approved at the federal, including the collegiate level, is one of the main strategic advantages. This is the right strategy.
Near Future
— How do you see the WOOP in two and a half years, when the society will be 100 years old?
— Any organization — these are, first of all, traditions, and we need to evaluate what was good, why it was good, and who are those people who, not for money, but because of understanding the situation, spent their time and energy on promoting the ideas of the organization. By the 100th anniversary, we have the opportunity to become an authoritative environmental organization. There are many ecologists in the country now. We will need to find common ground and join forces with all reasonable and positive organizations.
In addition, by the time of the 100th anniversary, we should try to sign agreements with our foreign neighbors. This is important for the development of common principles and positions in international cooperation, which in any case, in any political scenario, will move towards ecology, towards ESG principles and sustainable development. We have every reason for this. These are common climatic zones, and common water resources, and forests. Only by uniting can we protect our common interests. Moreover, as I said at the beginning of our meeting, with all the disagreements and conflicts, the world today is looking for an opportunity to unite around some important agenda. And what could be more important than ecology? Access to clean water? To clean air? For normal food? It would be simply stupid not to use this desire for the benefit, including our Western partners.
And, perhaps, the most important — It's about getting people involved in the process. And, probably, these are not only actions or subbotniks, which are held once a year. This is important, but systematic work to correct the problems that have accumulated and a common look into the future are now more important than ever. Our tasks in this regard — educational work, public and scientific expertise, identification and scaling up of successful projects, as well as involvement of young people in systematic work. I repeat once again, we must become an authoritative organization both within the country and at the international level. Good deeds, understandable deeds unite people more than anything else. As a tool for this — creation of a powerful regional network throughout the country, where understandable and caring people will come. We also need to hear the inventors, who today cannot reach anyone with their projects, and just hear the people on any topic that concerns them regarding ecology and nature conservation. At the next meeting of the Presidium, we will just discuss the measures that need to be taken to solve these problems. I hope, in this regard, to interact with your holding, which not only in words during information work, but also with the help of specific deeds, specific projects, has been pursuing this policy for quite a long time.
— And how do you feel about creating a strong political "green" on the basis of the VOOP? a party capable of entering the State Duma in the next election?
— Last year, we have three organizations with an environmental connotation took part in the elections and received, if we count all together, less than 1% of the vote. Here is the result. It seems to me, on the contrary, that we should implement our ideas and receive support from all political parties in our country. We must create a strong public organization that unites all political movements. After all, a separate party — it is competition in the political market. And we see on the example of other countries, the same Germany, that because of this competition, the "green" politicians begin to make not quite balanced decisions in order to look greener and greener in the eyes of their voters.
I believe that the VOOP should become a unifying organization. We must do this, pass it on to the next generation, and the youth themselves will decide what to do next. It is wrong to politicize ecology and climate today.