The Pope on Catholic Palm Sunday urged to "lower arms" and start negotiations to establish peace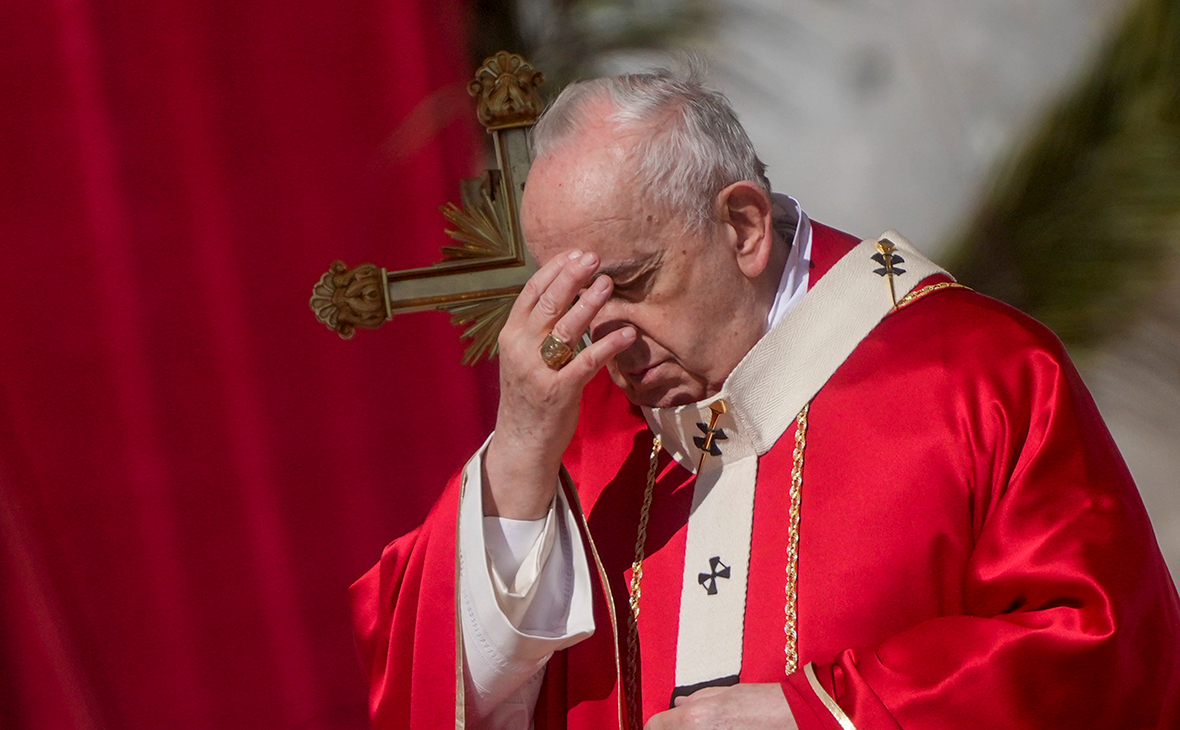 Pope Francis
On Palm Sunday, Pope Francis called for an Easter truce in Ukraine, Reuters reports. "Lower your weapons!" asked the pontiff at the end of the service in St. Peter's Square, where tens of thousands of people gathered.
At the same time, he noted that the truce should not be used for rearmament and further resumption of hostilities, but to establish peace through real negotiations.
Patriarch of Moscow and All Russia Kirill, in turn, called on the Russians to rally around the government. "May the Lord help us all in this difficult time for our Fatherland to rally everyone, including around the authorities, and the authorities— be filled with responsibility for your people, humility and readiness to serve them even to the point of your life, — he said after the liturgy in the Church of the Intercession of the Most Holy Theotokos on the Lyubertsy fields in Moscow (TASS quote).
Then "genuine solidarity and the ability to repel enemies, both external and internal, and arrange our life in such a way that there is as much goodness, truth and love as possible in this life," he noted. The head of the Russian Orthodox Church warned that having power— "a very dangerous thing", and "to whom much is given, much will be asked."
On March 20, the Pope called on the international community to stop the fighting in Ukraine, saying that "the senseless massacres, atrocities are repeated every day, and there is no excuse for this.
In early April, Pope Francis announced plans to visit Kyiv. At the same time, he is not sure "can this be done and will it be convenient." According to him, he is also going to meet with Patriarch Kirill.
Read on RBC Pro Pro A third of companies are revising the size of bonuses, 20% downward Researches Pro "I didn't sign anything": why verbal deals and receipts don't work Articles Pro Will diapers become a luxury: a forecast for the baby hygiene market Articles Pro What is happening with air cargo right now Articles Pro x The Economist Not just a "supercycle": who will benefit from the growth in demand for non-ferrous metals Articles Pro Another opinion: how to listen and use to your advantage Instructions Pro Job seeker in priority or back to the 1990s: what will happen to the labor market Articles Pro x The Economist Will oil cost $200 per barrel — The Economist Articles
On February 24, Russia launched a military operation in Ukraine, the purpose of which President Vladimir Putin called "demilitarization and denazification" neighboring country.
Negotiations between the Russian and Ukrainian delegations have been held since March 27, they held several meetings in person, the last one took place in Istanbul on March 29. In addition, the parties hold consultations via videoconference. However, the Kremlin said that they "would like to see more dynamics from the Ukrainian side."
Ukrainian President Volodymyr Zelensky also insists on continuing negotiations with Russia, considering this the only way to cease fire.
Telegram RBC Stay up to date with the latest news even in conditions of blocking