Sister Nancy's classic "Bam Bam" is perhaps the most sampled dancehall song of all-time, but how much did she profited from years of sampling?
When it comes to copyright ownership of intellectual property in music, reggae/dancehall is perhaps the most behind in the industry. While the genre continues on its path to be fully streamlined, most Jamaican artists still use YouTube as their primary platform for releases and sometimes fail to get the work registered legally in a way that benefits them with royalties and the ability to distribute third-party licenses. It's interesting to think then that dancehall and reggae music is so often sampled in other music genres, and it begs the question of whether this is because there is free access to do so.
Perhaps one of the most sampled songs from the genre of all time is Sister Nancy's "Bam Bam," which has been featured in numerous hip-hop, R&B, EDM, and Latin tracks. With some of the world's biggest artists featuring an excerpt of the song in their music and performances, including Kanye West, Beyoncé, Jay-Z, H.E.R., Major Lazer, and more, you would be surprised to learn that Sister Nancy never benefited financially from the use of the 1982 song for over three decades. Without the right representation or honest partners, music artists can sometimes watch their work do numbers for others for indefinite years simply because they never claimed their legal rights to ownership or signed away their rights in unfair contracts.
While "Bam Bam" is widely believed to be the most sampled reggae or dancehall song of all, many people are not aware that the original lyrics were penned by the late Toots Hibbert of Toots and the Maytals, the late icon who coined the term "reggae" as we've come to known the genre as today. The band performed the track in the 1966 Jamaica Festival Song Competition, which they won that year, and many others. Sister Nancy's version, as one of the very first Jamaican female MC's, became the most popular of all the dancehall covers.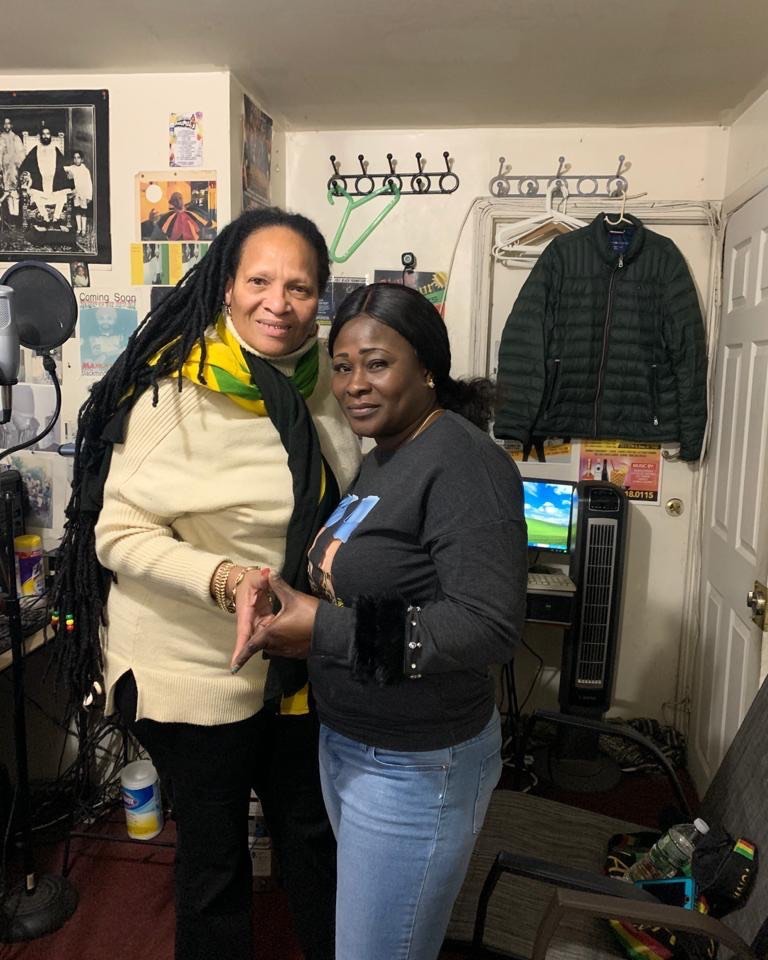 Sister Nancy & Lady G
Toots and the Maytals sing on the original track: "Bam bam, what a bam bam / I want you to know that I am the man / Who fights for the right not for the wrong / Going there and staying here / Talking this and talking that / Soon you will find out the man I'm supposed to be." Jamaican music veteran Yellowman recreated his dancehall version on the Taxi Riddim in 1982 that goes: "Bam bam, what a bam bam / Bam bam dilla, bam bam / This man don't trouble no one / My name is Yellowman / I just born as a Jamaican / Tell yuh Yellow have plenty woman / Inna Kingston, even inna Portland."
This track inspired Sister Nancy's standout version on the Stalag Riddim the same year, which we've come to know as: "One ting Nancy cyaan understand / Wah mek dem a talk bout mi ambition / Some a dem a ask me weh mi get it from / A chuu dem nuh know it's from creation / Bam bam, ey, what a bam bam / Bam bam dilla, bam bam / What a bam bam / This woman never trouble no one / I'm a lady, I'm not a man / MC is my ambition / I come fi nice up Jamaicans / So bam bam ey / What a bam bam."
Sister Nancy freestyled the whole track, which was the final one recorded of the ten tracks for her first album. She never even transcribed the lyrics until days later, when she had to listen to the track to hear what she actually said in the recording. The statement was a breakout hit for the dancehall female trailblazer. "Bam Bam" was the lead track on Sister Nancy's debut album One, Two, which was produced by Winston Riley for Techniques Records.
Over the course of the following decades, the track was rehashed by the likes of Chaka Demus and Pliers in 1992, who used the lyrics from the original Toots and the Maytals version. The legend goes that the song was first played in the U.S. by Afrika Bambaataa, one of hip-hop's founding fathers in a New York nightclub. Lauryn Hill then referenced the track in 1998 in her song "Lost Ones" from her history-making album The Miseducation of Lauryn Hill. The virality of the track did not end there as it was featured in films, commercials, and more.
"Bam Bam" was most notably a part of the soundtrack for the 1998 movie Belly starring Nas and DMX and directed by Hype Williams. Believe it or not, Sister Nancy, whose real name is Ophlin Russell, was never contacted for permission to use the track, and she found out her vocals were used in the film by watching it just like everyone else. Imagine her surprise when she hears her work in such a huge film, knowing that she did not authorize it. The "Bam Bam" hitmaker was sent the record by the producer Winston Riley's sister, who had been there with them from the jump, which is when she discovered that her name was not on it.
Winston Riley, the producer of the track, had taken the credit along with Techniques Records and one "Nancy White" who was certainly not her. "She said 'look at this,' and I see it and I said 'who the hell is Nancy White?'" Sister Nancy recalled in a 2017 interview with Vibe Magazine. When she made contact with Riley, Nancy, who was in school at the time, was told that he had "a whole heap a money" to give her from the movie.
When she went to meet him at his request, she got stood up and revealed that she waited for 12 hours to no avail and ended up getting no revenue from the film. This was also true for the use of the track in the EA Sports 2007 "Skate" video game.
It wasn't until 2014 when Sister Nancy saw a Reebok commercial that featured the song that she decided to take legal action against Winston Riley and Techniques Records. She was, of course, successful when she brought them to court and ended up with 50 percent rights to her debut album, One, Two, and received her rightful retroactive royalties from the previous decade. The track had since been featured in other movies like Seth Rogen's "The Interview" in 2014, Kanye West's multiplatinum track "Famous" from The Life of Pablo in 2016, Jay-Z's "Bam" featuring Damien Marley from his 2017 album 4:44, and so much more.
While it took 32 years for Sister Nancy to finally get her rights to the timeless track, there are a ton of other artists from her time who have yet to achieve this feat, and some have sadly already passed away, making it that much more difficult for their kin to ever benefit. For example, Billy Boyo's popular 1981 hit "One Spliff A Day" was sampled as recently as 2019 on DJ Khaled's Father of Asahd album. The record label that owns the masters, of course, gave DJ Khaled permission to use the track, but as for the late deejay who died in his early 30s, his daughter tried to seek compensation but had no legal right to do so.
Young reggae and dancehall artists nowadays are being more diligent about their work and less negligent about the slippery copyright issue. More than ever before, creators in the genre are claiming royalties and getting their legal ducks in a row when it comes to copyright ownership. With so many Jamaican artists signed to huge international labels and the modern creative rights services at the disposal of the independent artists, one can only hope certain mishaps will eventually become a thing of the past. It starts with the education of the music artists to mitigate the occurrences of record labels profiting entirely and solely from their tracks, and there is no doubt vast information at our fingertips at this moment in history.
Share this: