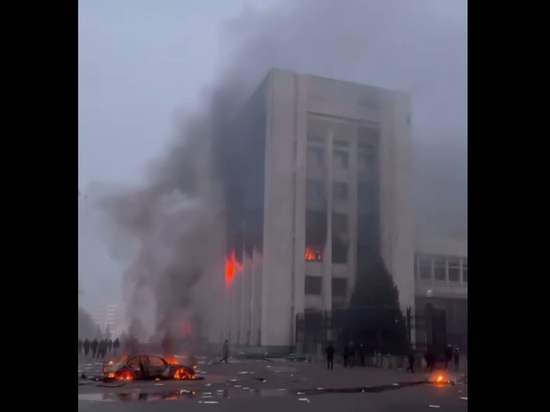 Photo: Still from video
A video of an eyewitness of the events in Alma-Ata in the first days of January began to spread on social networks. The author of the video filmed the peak of the pogroms in the city center, in particular, the seizure of the former presidential residence, now the Akimat, a local executive body. The footage shows crowds of people armed with what, breaking glass, setting fire to cars, and robbing nearby shops and restaurants. An eyewitness to the events who filmed the video claims that the attackers – he calls them provocateurs and someone trained and instructed by marauders – intended to kill all the military in the akimat, including young cadets.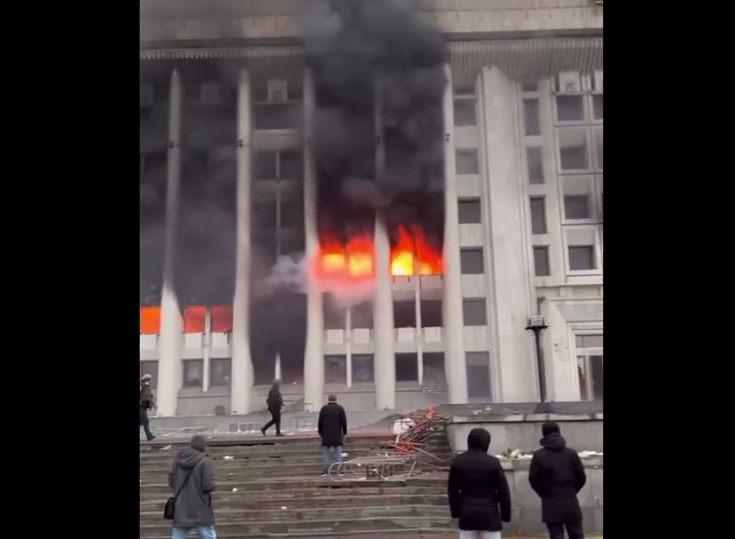 The author of the video claims that he was in the center of the crowd, but did not advocate for the rioters, and in those days he arrived in the center of Almaty to fight the riots. According to the man, he and other like-minded people arrived at the akimat building to rescue the military who were inside. According to him, at first they did not hope to find the living, since the building was already on fire. He assumes that the rioters wanted to burn the guards of the building alive.
"The residence was defended by cadets, young boys … And their officers. I had to get them out after the assault, otherwise they would be torn apart," says the author.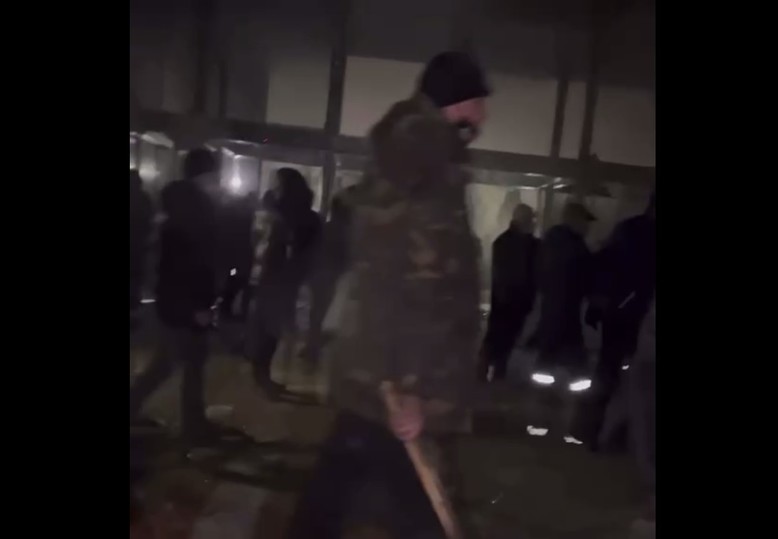 Having gone inside and bypassing the premises where the armed rioters were walking, the group reached the basement, where the military who remained in the building barricaded themselves.
"These were cadets. 18-20 years old. They were scared, "- said the author of the frames.
According to him, he and others were accompanied by the pogromists, so they tried to deceive their vigilance and not allow them to find out that servicemen remained in the building. In particular, the rescued cadets were given civilian clothes matched up on the street in order to discreetly take them out of the building.
"(The thugs) were on adrenaline. Robbery. Kill. Beat. Set on fire," said an eyewitness. "Many were drunk. They walked with knives, axes, clubs, weapons."
The footage shows, in particular, how the crowd left the doors of the akimat and began to fire a machine gun into the air from the available weapons.
" Then everything moved to the square, and looting began. And we – further along the residence, pull out the boys, "- added the author of the video.
After rescuing the cadets, he and his comrades-in-arms went to the nearby shops to stop the looting. The author claims that even girls ran into shops "on the sly" and grabbed goods, and men pulled alcohol out of restaurants in the presence of the owners of the establishments.
"We did everything that could be done in the akimat. People did not come to a peaceful meeting, – the author of the video also notes. – They were preparing to attack the residence.